Having a good eye (or two, for that matter) for finding photographic opportunities is a talent that all photographers must have in order to be successful. In addition to that, having a vivid imagination expands that talent even more. Most event photographers (wedding, in this case) have a stock set of pictures in their heads: getting dressed, makeup, processional, rings, kissing, recessional, posed dressed shots then candid shots at the reception. We all do that. So what would separate one photographer for another?
Hmmm, I don't know. How about some "imagination"?
Imagining the bride on a horse would make for a nice picture, but that picture may not mean anything to the bride. It's a nice shot (perhaps) and it's imaginative (unless all you think about is Lady Godiva), but it needs meaning. Granted, "meaning" in wedding albums usually are comprised of shots of the bride and groom exchanging vows, or lighting candles, etc.
The photographer's job is to capture these memory. As somebody else put it to me, "to create a legacy". So knowing your bridal party's (read: bride) history or background is due diligence that will pay off. But don't be pushy about it if the bride says "I don't know". With this information, you, as the photographer/legacy maker can devise ways to "capture" that meaning on film (or bits, if shooting digital). If you get nothing from your clients, perhaps you can suggest something. You'd be surprised on how often it is accepted and liked. If not, just try it with another client. Don't let your imagination get discouraged.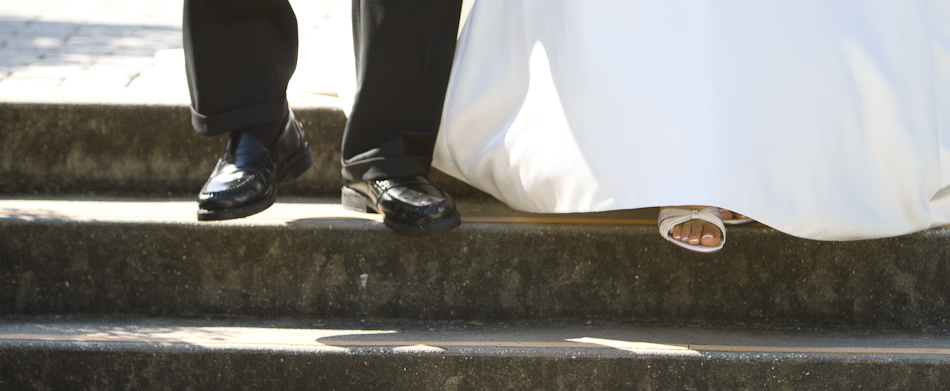 This shot was a suggestion of mine. The meaning (I suggested) was one of a "rite of passage" towards married life. Needless to say, the bride liked the idea. I had to be prepared for it since things were a bit rushed and I had to take full-length pictures of them as well. Thanks to a fast camera and Image Stabalization on the lens, I was able to be successful.