Recently, I've been asked by a photo stock company to provide samples of stock work to be considered as a staff photographer. As giddy as I was, I started thinking about different scenes that I can photograph Carline in that will produce "stockable" photos (Carline wasn't going to be my ONLY  model, just my first [smile]). The first picture in my mind was of my model taking a relaxing bath. Usually (and ideally), you want to setup the stage where everything is poseable, including the tub. I don't have such a setup at home. My tub is in a niche so finding different angles to photograph will prove a bit difficult. Hindsight is 20/20. My giddiness clouded my logisitical mind.
Reality kinda hit after Carline and I spent the better half of the day buying props for the shoot. I didn't want to panic so I told Carline that I'm going to "casually" stop at the camera shop and, um, look for "something". After looking around and finding nothing that I tought would work, I broke down and asked the salesperson (fearing the worse dollar-wise). After explaining what I wanted to do, the very helpful salesperson pointed me to a "professional" (read: expensive) tripod system that will definitely do the job ([subliminally] or no money back). It's a tripod system because the legs are separate from the head where the camera rests (btw, the head is "optional"). Long story short, many less dollars in my bank account later (let's not talk about my "impulsivity"; or is it "gullibility"?), I walked out with a Manfrotto 055XPROB tripod with the 496RC2 Ball and Quick Release (I actually paid a little less than the MSRP).
Water and expensive electronic equipment don't mix so DON'T TRY THIS AT HOME!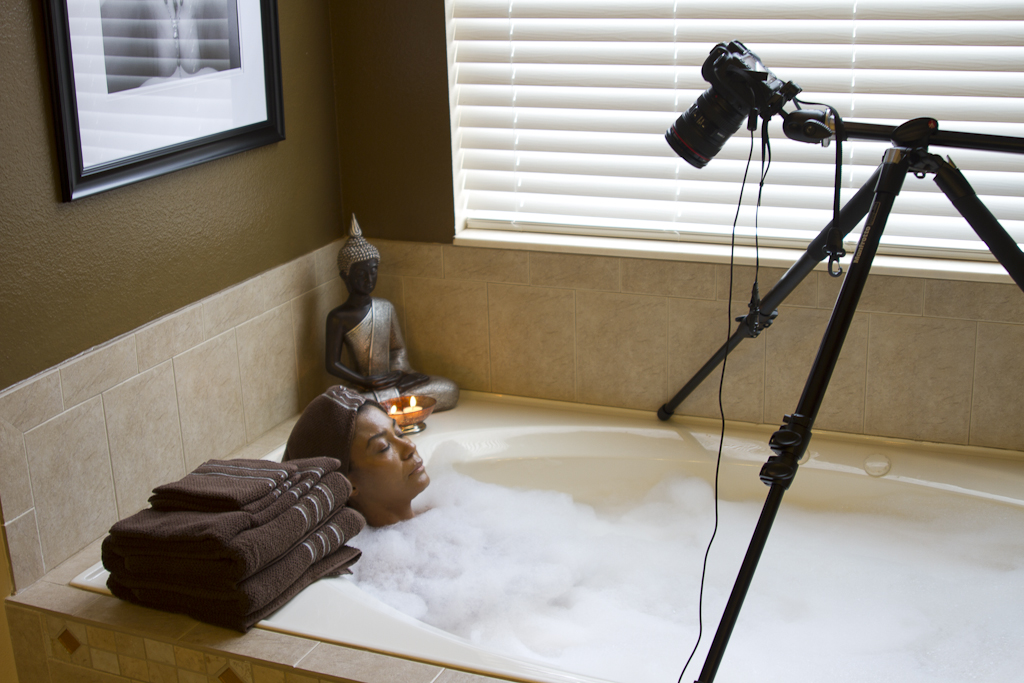 The camera is shooting in tethered mode with a Mac Book Pro running Lightroom 3. The cord is short enough that it would have dragged the computer into the water if the camera fell in. Needless to say, the tripod was very stable and held the camera tight while allowing me to fine-tune the camera position. Money well-spent, though the timing of that expenditure was a bit, um, "conflicting" (I love you, baby! [smile]).
Here's a sample of one of the photos (cropped from the original):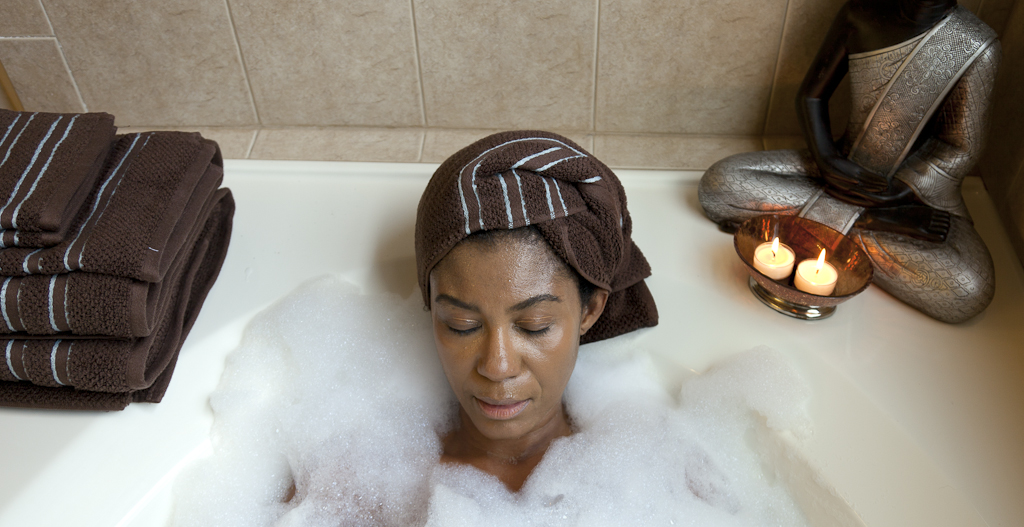 Technically, I am not allowed to post stock photos anywhere but on the stock site, but this shot will not be used for that, so here it is!
Staging a shoot can get expensive if you don't already have the props to begin with. This next shot shows a different position of the same scene: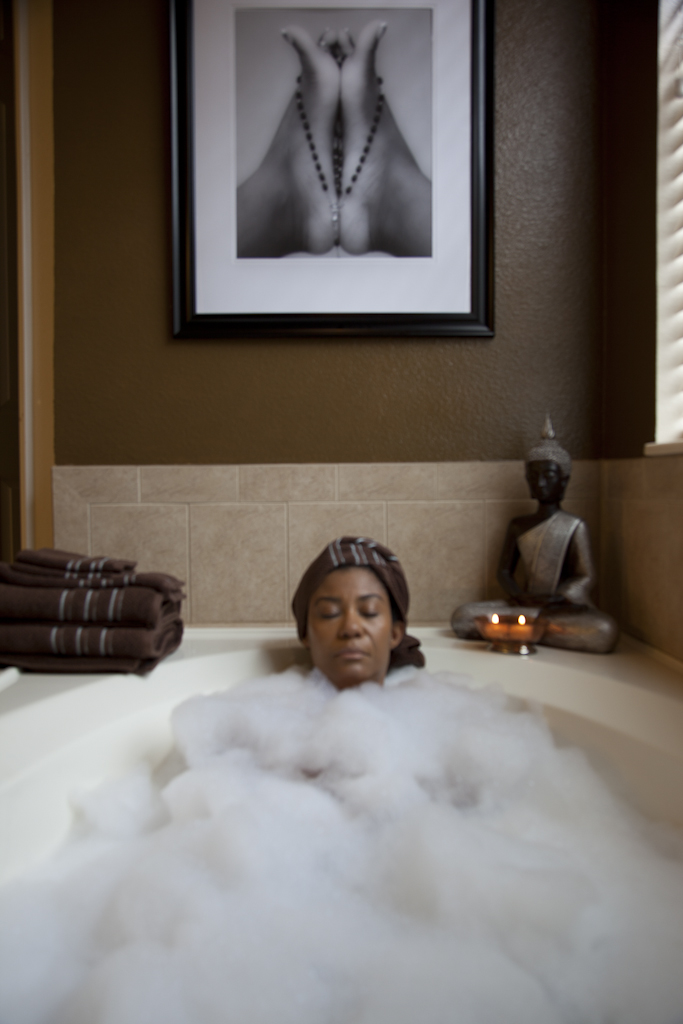 Props in this scene:
Towels
Statue
Bowl
Vanilla scented Tea Candles
Picture frame with matte
Custom print (btw, that's Carline's pedicured feet in the picture)
Bubbles by Philosophy Cinnamon Bun shower gel (this we had already)
We're auctioning the print (titled "Foot Worship") above Carline in the scene after we re-take these photos [smile]. Here's the camera setup: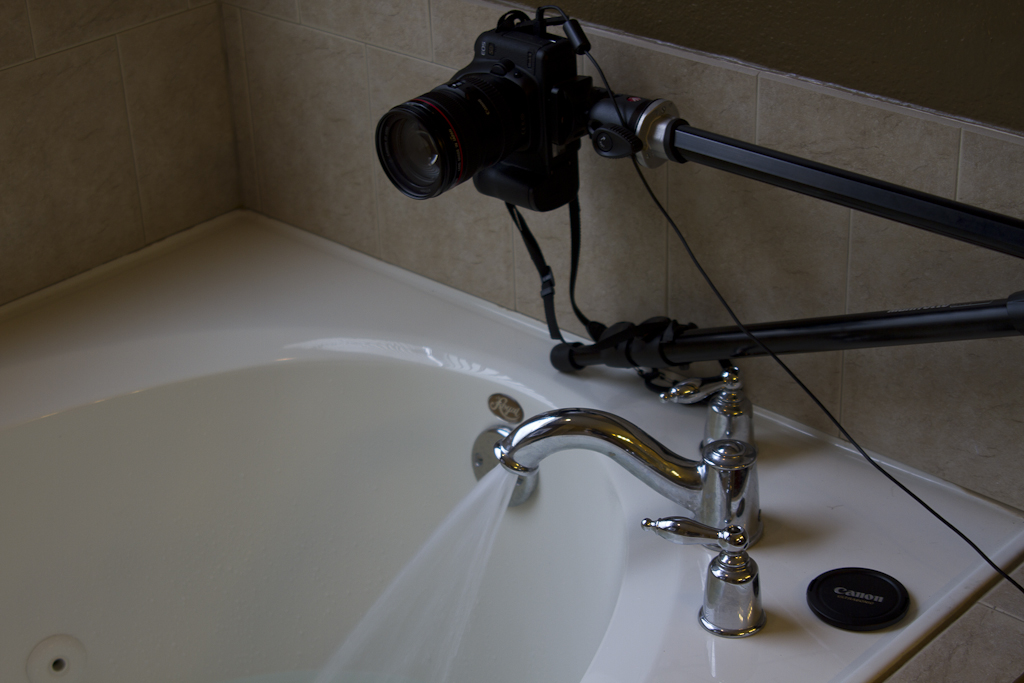 As you can see, there was no way for me to take the picture hand-held from that position, though for stock you want the highest quality images you can produce so a high-definition lens and tripod must be used.
As my high-school calculus/physics teacher once said "Don't buy cheap tools."