After 28 years, we finally went back to Puerto Rico. We weren't supposed to go there. We were headed to Peru, but the flights were booked and we couldn't get on standby. The Puerto Rico flight was quite empty.
We arrived in San Juan and stayed at the Ciqala Luxury Suites; a quaint, but nicely finished room. After checking in, and at the recommendation of our cab driver, we went to Los Pinos Cafe for dinner. As we walked from the hotel to Los Pinos, the sound of coqui, dogs barking and people talking in their houses brought me back to when I was a boy living there. It wasn't enough to feel nostalgic, though.
Los Pinos looked like a popular place. Several Celia Cruz and Marc Anthony sets played as we waited. Carline ordered bistec and mofongo and I had a mofongo relleno with chicken. The mofongo was sub-par, with the chicken probably coming from a can, but we were hungry. The other patrons seemed to enjoy the comfort food. We finished our meal with flan and tres leches and walked back to the hotel to sleep it off.
The next morning, we decided to rent a car and stay at a hotel in Luquillo. But we ended up in a car rental and room reservation fiasco, so our jaunt to Old San Juan was cut a bit short. We got to explore El Castillo de Cristobal, but didn't get to visit El Morro, which is about a mile Nortwest of it.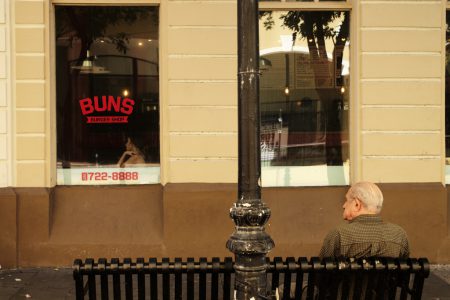 As it was Carline's birthday, we look for a place to have a nice dinner. We found a place where they advertise "The Best Mofongo". So we decided to take a chance. The place is called Vaca Brava. We inadvertently ordered the Kan Kan pork chop and a side of mofongo. The pork chop came on a metal tray with a quite long metal skewer in the middle of it. The rather huge pork chop was on the skewer. The fat on the edges was cooked to a crisp. Essentially, chicharron. The mofongo came in a pilon and it was clearly enough for two people. Then, the moment of truth: did the mofongo live up to its claim? It was, at most, an 8 out of 10. It had the "garlic-ness" and texture of a good mofongo but it was too salao.
The next day, we planned visiting El Yunque rain forest and then head out to Aguadilla in the Northwest. After driving eleven kilometers up El Yunque, stopping for the occasional photo op, we treated ourselves to coco frio and an alcapurria stuffed with crab meat, before the three and a half hour drive to Aguadilla, taking the traditional coast roads (non toll). Along our way to Aguadilla, we bought a bag of quenepas from a street vendor.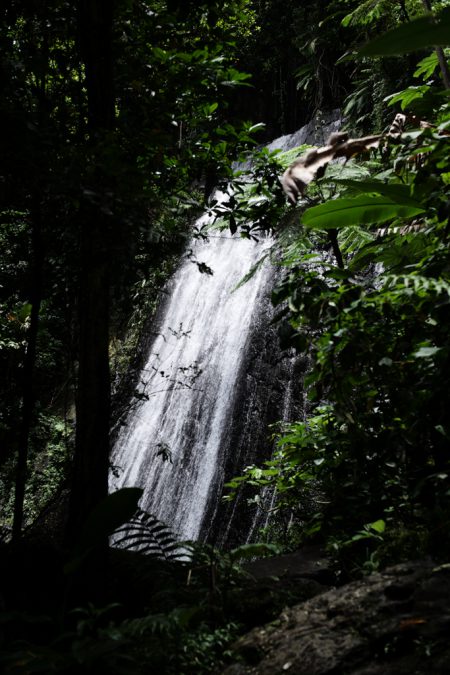 When we arrived in Aguadilla, the first order of business was to procure dinner. So we GPS'd our way to "Cano's Fried Chicken", on a suggestion by one of Carline's co-workers. There we got two fried chicken "boxes": a quarter chicken with tostones. And because my lack of mofongo satisfaction, a mofongo relleno with pollo guisao. The fried chicken had no frills like KFC or Popeye's. It was just fried, but it was perfectly fried! Crispy on the outside, juicy on the inside with no greasy feel or taste. Oh, and the mofongo……I gave it a 9 out of 10. I compare the mofongo to how my father makes it. He adds pork rinds (chicharron) to his, which gives it a nice texture and slight salty flavor. Cano's version (which is probably made in the traditional way) has no chicharron, which is why it gets a 9. If you're in the Northwest area of Puerto Rico, I HIGHLY recommend Cano's Fried Chicken.
We got a hotel room at Hotel Columbus in Aguada which is west of Aguadilla. It was a short-lived stay since the place was dilapidated with no wifi, no phone in the room, a french door to the patio that broke apart, no shower head, tiny a/c wall unit that struggled to cool the room (which it didn't), to name a few. However, it had a very nice view of the Atlantic since it was on the beach, but that was about it. We left after about an hour and got a room at Las Palmas Inn in Rincon, which is close to the Northwest corner of the island (hence the name Rincon).
The next morning, Carline and I had breakfast at Bieeeeeen Bueno in Aguadilla, then we drove to my grandmother's old neighborhood in Visbal. I set out looking for the house I stayed in when I was seven years old, but instead, I only found the second house she owned. I don't remember Visbal being so dilapidated. In fact, we have pictures from our last visit that begs to differ. People are living in houses that look like they could collapse any minute. My grandmother's house had chunks of walls missing and it looked abandoned, but it was occupied. I took a few shots of the house and I was met by the owner who asked me what I would be doing with the photos. After explaining who I was and why I was there, he asked me if I, by any chance, am related to the previous owner. A fair question since I never gave any dates. Once I confirmed, he eased up and we started talking about my grandfather and his cigars.
We had plenty of time to catch our evening flight out of San Juan, so I decided to take Carline, past San Juan, to Luquillo Beach which is North of El Yunque. After a brief stay in Luquillo, we drove to the kiosks and bought two bacalaitos, then we were on our way to the airport.
Gallery