Vacation Fauxtography
by
Alfred Lopez
In The Return of the Jedi, Luke, Han, Chewie and Leia are on their way to Endor when they approach Imperial ships….
Han: "…Keep your distance, though, Chewie, but don't look like you're keeping your distance."
Chewie: "How the hell am I supposed to do that?"
Han: "I don't know. Fly 'casual'."
So I'm here to say…
Me: "Take vacation pictures, but don't make them look like vacation pictures."
You: "How the hell am I supposed to do that?"
Me: "I don't know. Keep reading!"
First, the Equipment
Do yourself a favor and get a "decent" camera. Nothing less than $300, on the average. If you want a point-n-shoot, get the highest end P&S you can afford. Your pictures will thank you later! An example of said (pocketable) P&S would be something like the following (not an exhaustive list):
Point-n-Shoots
Canon
Powershot S110 or S120
NIkon
Coolpix P330 or P340
Sony (A bit too pricey)
Cybershot WX300
Fujifilm
FinePix F900EXR or XF1
Point-n-Shoots With Some "Manualness" to Them and Somewhat Pocketable
Canon
G15 or G 1 X
NIkon
Coolpix P7800
Sony (A bit too pricey)
Cybershot RX1 (though WAY too expensive, I'm only putting it here to take up space)
Fujifilm
XQ1, X20 (A little too complicated, but the results are worth it if you stick to learning it)
Some of you may carry your DSLRs and such and that's fine. The listed cameras will give you the flexibility and the image quality that can compete with a DSLR. For this article, I will be using my Canon DSLR replacement: the Fujifilm X-T1 with the XF 35mm f1.4 R lens (a 52mm perspective due to the crop factor).
You may ask why not take the X10 which is much smaller, and my answer to that is….."reasons". Actually, I wasn't going to carry a bag (which I suggest you do) and I knew it was going to rain. The X-T1 is Fujifilm's only weather-sealed body, though the the lens is not, but I figured it could survive normal, non-torrential rain. I usually carry a small weather proof bag like the Timbuk2 Mini-Messenger (discontinued) or the ONA Bowery. If you don't want to carry a bag, put the camera on some sort of comfortable leash, like the ONA Lima Strap (shown above), or any Kata strap like the C-Strap PL.
The Vacay Photograph-ay
The point of vacation photographs is to document your vacation; to capture what's of interest and to prove that you were there, and, more than likely, to gain bragging points. But not everybody will appreciates the actual photo itself besides you; it's just not appealing to see a person standing in front of a structure or a space just to say "I was here!" especially when all the photos pretty much look the same in different locations. Everybody's done it, but I'm here to say that you can stop the pain! I'll help you. I promise.
The first thing you must realize is that people will believe you went on vacation. So you or anybody in your party don't have to be in every shot. You don't need to hand your camera (very risky if it's expensive) to a stranger and ask her to take your picture, unless you're taking it with a local or a celebrity or somebody significant. I'm not saying devoid yourself from the shots, but to simply take a few key shots with you and your party to show that you're vacationing. Like the "we're here" photos that everybody takes (I've never taken any ). If you're alone (I'm sad for you; really), then a single shot of the place is enough. For this demonstration, my daughter, Alfre, and I will be taking pictures at Universal Studios in Orlando! Ok, I've been there a gajillion times, except that this is our FIRST TIME visiting the brand spankin' new DIAGON ALLEY!
"We're Here!" Shot
Get this shot over with. Though, there are times that you can take a very artistic shot of an iconic structure/landmark, but this is not our case.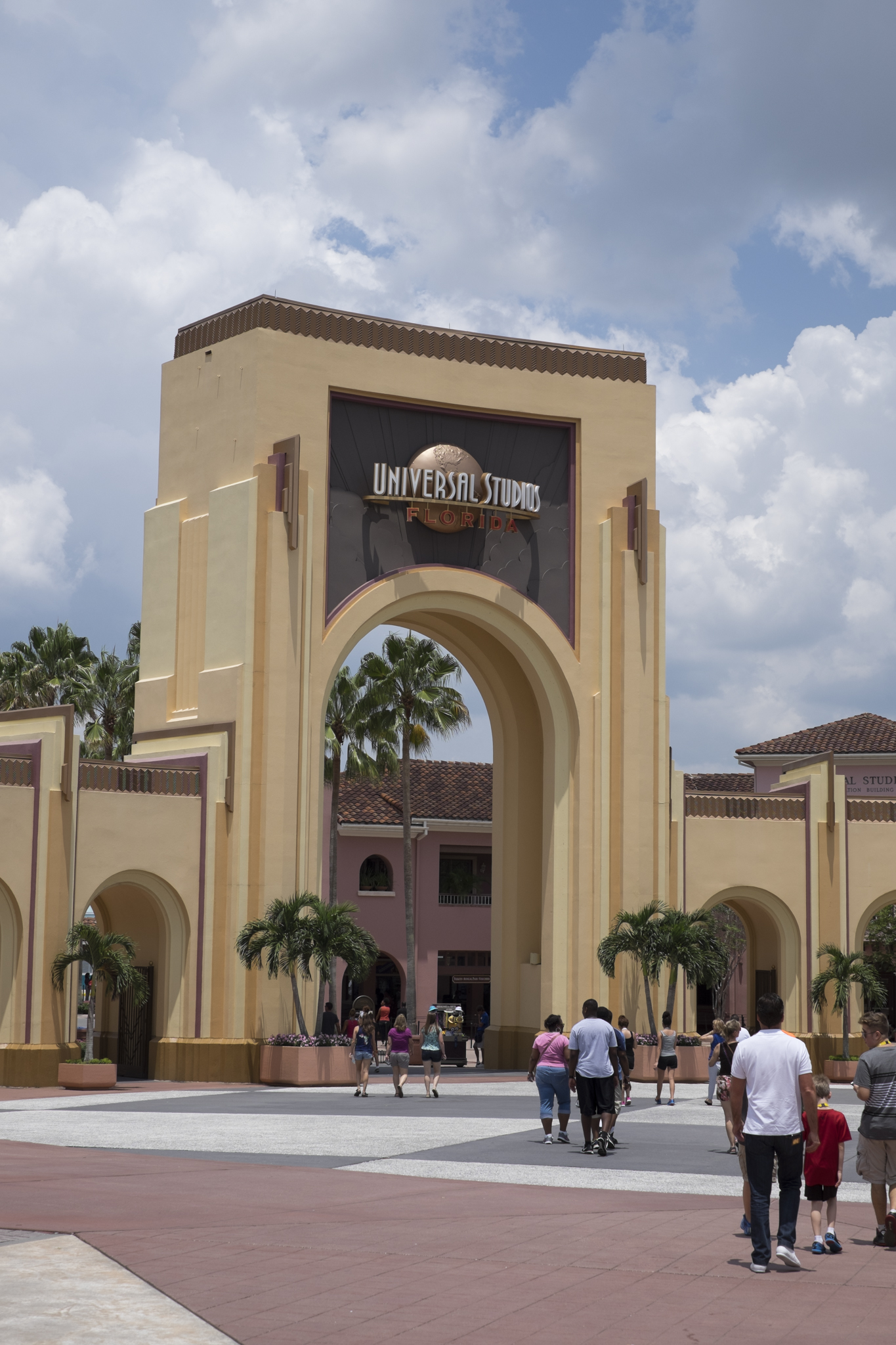 Ok, not the fanciest, but it makes our point: we're at Universal Studios. And, yes, I could have put my daughter in the frame. I also didn't do any post-processing other than converting the RAW file into JPEG. Even though I took this shot, I took another "we're here" shot once we entered Diagon Alley:
Again, this just establishes where we are.
The Detail Shots
At this point, look for the interesting. I understand you're trying to enjoy yourself, but you're a pro photog now! Think like one! Take more "concentrated" pictures. Photography is more about exclusion than inclusion. This is what makes photographs interesting. Details don't have to be small, but look for what's interesting and that can tell a story and take the shot excluding everything else. The following two photos are of a section of Diagon Alley that I found interesting. As you can see, just turning the camera in portrait mode produced a more pleasing image, even though it's of the same thing. All you're doing is using compositional rules to exclude extraneous and detracting subjects.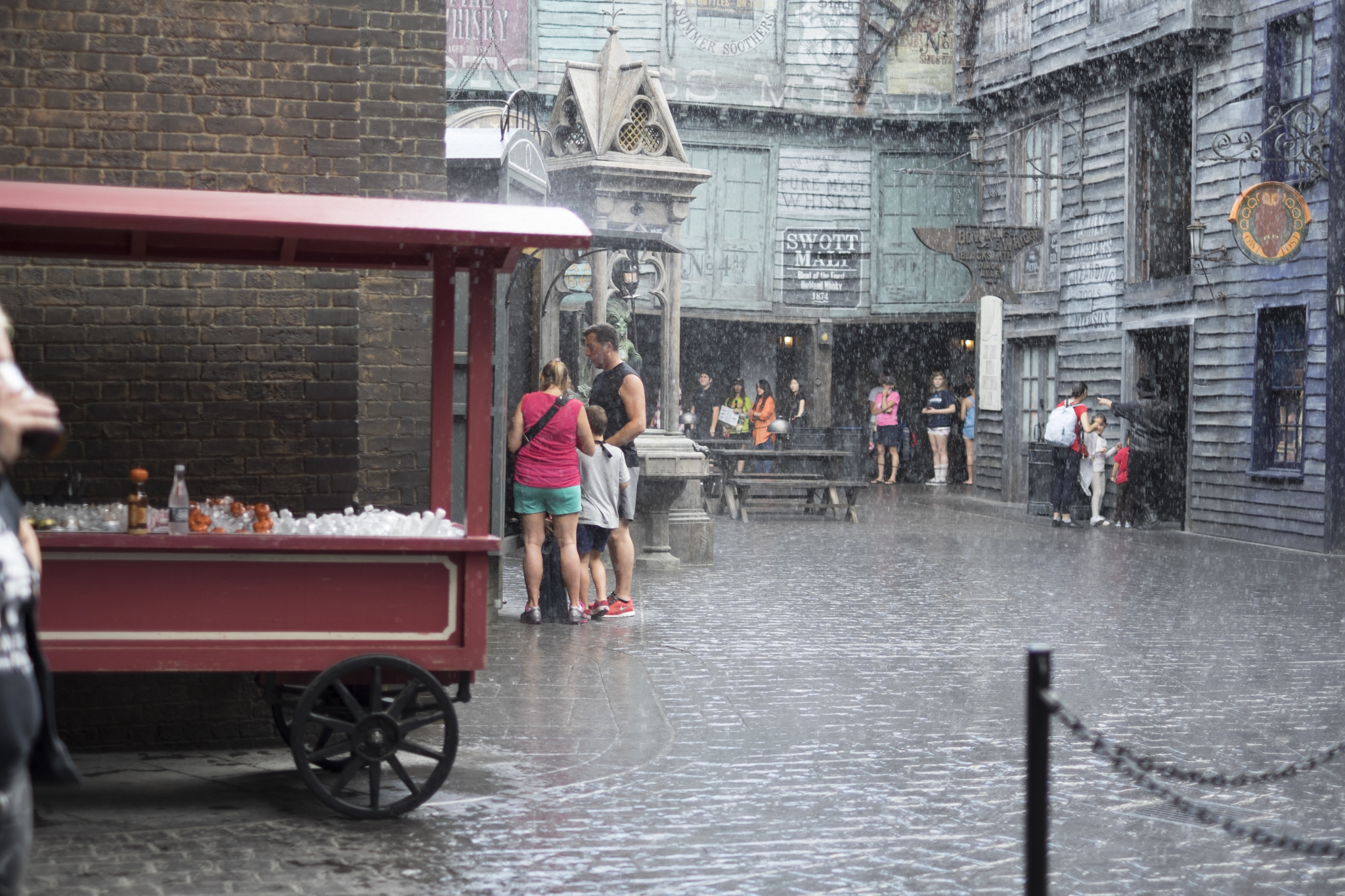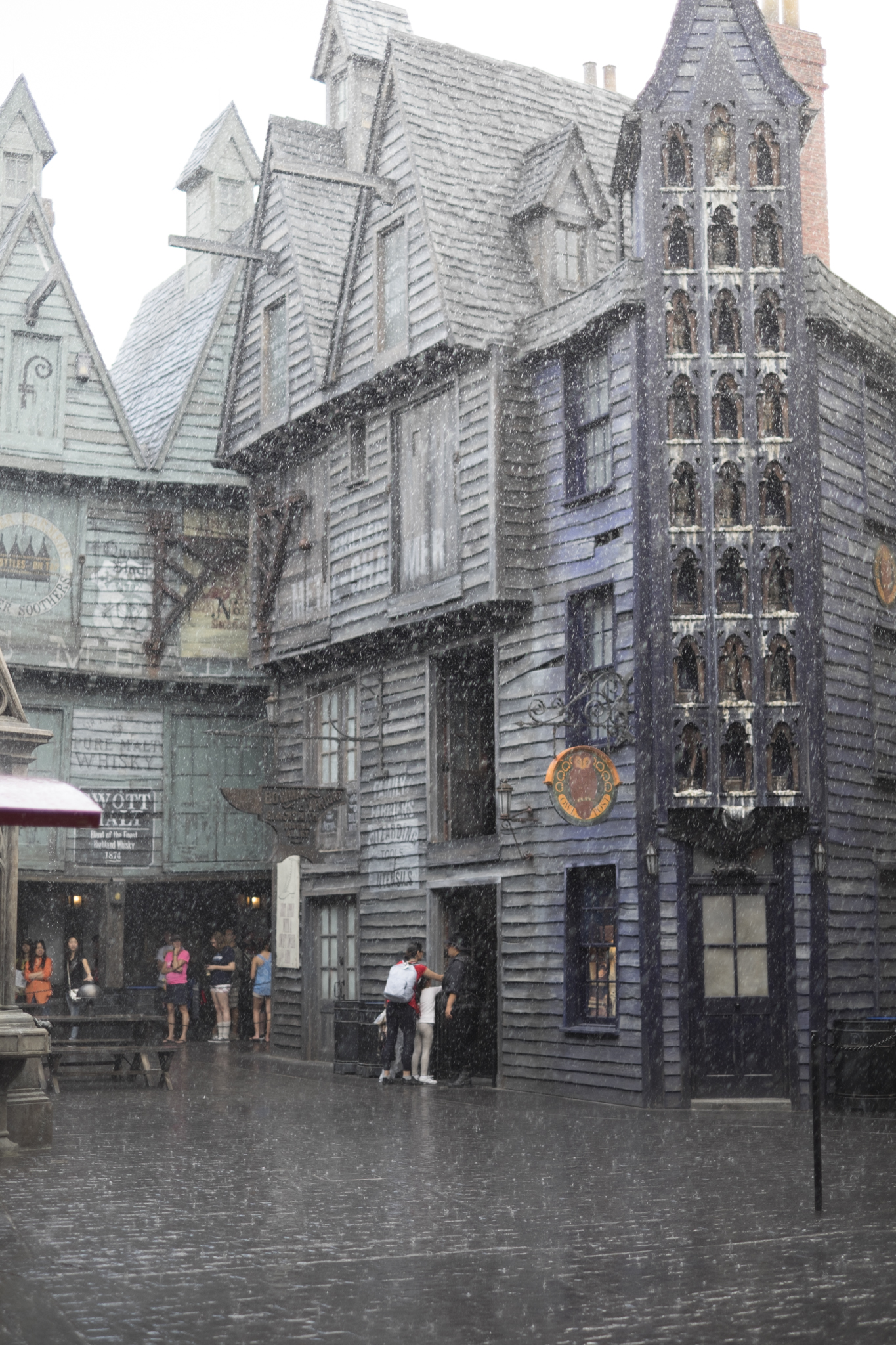 This also tells us that what we see doesn't necessarily translate well to a photograph. Sometimes, there are things we see that are not worth putting on a photograph because it will never do it justice. So you need to take a different approach. Another reason I found this scene interesting was because of how the buildings looked in this light, not necessarily the buildings themselves, plus the raindrops in the foreground adds a bit of texture. Places like these are meant to be enjoyed visually. Diagon Alley and the Harry Potter world is very immersive. The cloudiness and the rain added to the effect.
Other types of detail shots are smaller: props, items that are "indigenously" placed are of interest. You should view your world in a reductionistic rather than a holistic point of view, at least, in photography.
"What's Happenin'" Shots
You're on vacation with other people, no doubt. It is never an isolated experience unless you're vacationing in one of the Sandals Resorts, so there are people around you interacting with the environment and, perhaps, reacting to your presence. Well, go ahead! Take the picture!
This brings up another technique: add your subjects (like the people you're vacationing with) in the environment, but separate them from it. In this case, by throwing off the background a bit with some shallow depth of field, which you can achieve with a large aperture lens (most of the cameras on the list have one). But because these cameras (except for your DSLRs and the camera I was using) have small sensors, to achieve this result, you also need to be quite close to your subject.
The above picture of my son Jonathan was taken on a previous "vacation". We are standing in a new attraction and I wanted to capture Jonathan in that environment, but I don't need to make the environment the center of attention or to compete with Jonathan. We know where we are and this image is simply meant to spark our memory. It's a more pleasing and artistic image. I also captured a natural expression (next subject) that make this vacation totally worth it.
You can also combine what people are doing with how they are doing it to get a more interesting image:
These are things that you may notice, but may think that they are not part of your vacation. In fact, they are. Somebody may ask "what was that sculpture for?" which you may answer by explaining. Then you would suddenly remember what happened and tell that story. Why not capture it as well?
The Expression
If you interact with the locals, you'll find that the experience is enhanced. At the Butter Beer stand, the people attending "the bar" where WAY too much into character.
After giving the person in front of me a bit of a hard time, she started with me:
Bartender: [as I handed her my Google Wallet card, and with a slight Cockney accent] "A 'goggle' card? Is that a Muggle 'thing'?"
Me: [caught off guard and being totally oblivious] "No. It's a Google Wallet card. It's like a debit card."
Bartender: "Really? I wish I had a magic card that can hold my money."
I saw another character who was very "silent" and simply pointed people in the right direction. She was very, um, "creepy", but effective. Enough to make her interesting.
Though this image is, in my opinion, quite interesting, you can make it more interesting by excluding from it (read:cropping). You may wonder why I didn't just compose it in-camera. The answer is because it was the decisive moment and I didn't have time to walk up to her and get the same pose and expression. So cropping was the solution:
With a high enough megapixel count, cropping can still yield large and crisp images.
The Unnoticed Shots
Because you're constantly looking, you will notice things other may not see. [nodding] Right? Of course you will! So be ready to capture the unexpected detail that just "makes" your image, or the misconstrued event that will make for an interesting image, but not necessarily a "true image":
While walking towards the "silent creepy girl" the "dead body" scene caught my periphery. It was actually some woman sitting on the floor. Or…..was it? [pensive]
Keep It Natural
In these photos, I used natural light. I would NEVER use a flash when it comes to capturing what I actually see during my vacation. This is why I shoot with large aperture lenses. But if you really need that shot (for a keepsake, perhaps) then go ahead and use it. But set the camera to fill-flash. All of the cameras on the list above should have that option or should do it out of the box. Fill-flash just throws enough light onto your subject to light them up and at the same time allowing the ambient light to be part of the exposure. I don't have an example of that during my "vacay" because…..I kinda forgot to bring it with me. You know what I also forgot? Yep. An extra battery. I didn't realize that the battery was low when I left the house. So…..
This photo is of Jonathan and Carline on our way to Hogsmeade. Jonathan is being entertained by what he "sees" out the window (I won't spoil it). I bumped up the exposure a bit during post-processing. You should always "work" your photos, no matter what they are. It's part of the photographic process. The point to this all is to capture images to preserve your memory, but be creative in the process. This will make your vacation more memorable.
While I was composing this article, I came across a friend's post on Facebook. He is (at the time of this writing) vacationing in Paris. He posted a very creative "vacay pic" with his iPhone. I asked him if I could add it to my post. So he sent me a copy. I've color enhanced it a bit and straightened it, but they were very minor touch ups:
Have fun on your next vacation!